So the other day I had a rather miserable day of shopping in the 'city'. (I use that term lightly as it's technically a city in this province, but not even remotely close to the size of the cities I'm used to.
I should have known it was not going to be a pleasant day when the very first thing that happened when we arrived, was my belt on my pants breaking. (I'm still in those too-fat-for-my-regular pants and getting-too-small-for-my-fat pants... isn't baby weight just fantastic?!) Anyway, I really should have stopped and took the time to buy a new belt, but extra stops when you know you have a full day of shopping ahead and you have a baby and a preschooler with you, just doesn't feel that logical.
We got the first part of our shopping done with relative ease. It was when we hit the grocery store (which contained the bulk of our shopping) that everything seemed to go to pot. I was buying groceries for the restaurant and in typical small city fashion, they didn't have half of what we needed or it was already half-spoiled. Sweet daughter had just fallen asleep in the shopping cart (something I hadn't expected, but was relieved that she had). I heaved a giant bag of 50lb carrots onto the cart and then noticed that it wasn't sitting right. I looked down and noticed that the cart frame was broken! :S I still had a ton of shopping to do, but I knew I didn't want to keep baby in the broken cart. Of course their carts are those stupid put-the-dollar in type of carts, which are only stored outside, so I had to pay for what I had in the cart already, and then drag both kids outside in the bitter cold, to unload and get a better cart.
By the time we were back inside the kids were both now cranky and crying (the baby, because she was overtired and had been woken up rudely from her nap, and the preschooler because he had suddenly decided that he was done with shopping and wanted to go home RIGHT NOW!) *sigh* This is why I don't head to the city very often.
Anyway, after some smooth bribing with sparkle donuts (what he calls the vanilla sprinkle dips). We were able to finally finish off our shopping and get to the car. I was so tired. It had been a long day. The weather was turning even colder and we still had a long drive ahead of us.
That's when I got the phone call. My Christmas present had finally arrived! Finally some good news. Here's a picture of my new baby:
I grew up in a family of Mac lovers. We've had one since the time I was about 5 years old and they looked a little something like this: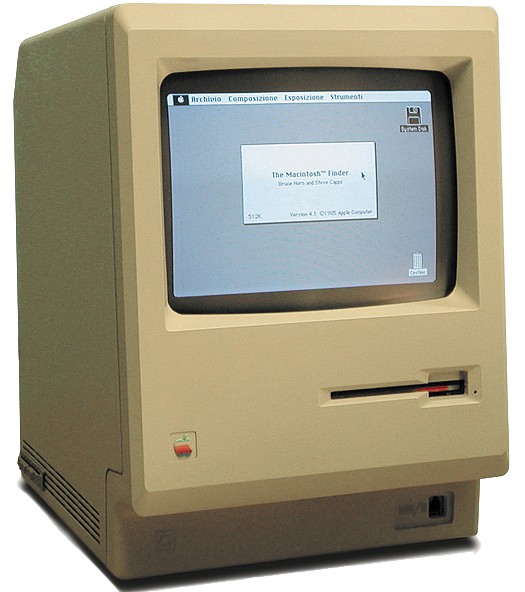 If anyone knows how to make those little 'source' links for my pictures I'd appreciate knowing how!
...and sorry for the massive picture, but I don't know how to shrink it (or even if I can)
I've had to suffer with using a PC since I got married as that was the computer that my husband already had and Macs were out of our price range.
This year, as my computer has been getting slower and slower (and making noises that no computer should) it was decided that I would be getting a new computer. We decided on a laptop as our place isn't that big and really doesn't have the room for a real computer (the old one is currently set up in the baby's room while she has been sleeping in ours, but it's time for her to go to her own room!)
Anyway, I'm super excited to have my new computer, but now it's going to take a little bit to get all the important informations transferred from my old computer onto my new one and get it organized. Wish me luck.
I have a new project that I finished that I'll be posting pictures of hopefully later today.